For your convenience, we've assembled these testing resources together in one place. These materials will help you study and practice for the MVA written test and the driving test.

• Written Test Resources (For your learner's permit)
MVA offers a booklet which pertains to the written test. Every question on the test is taken from this booklet.

The booklet is available for free at the MVA. You may also download the booklet here.

• Study Guide for Written Test
• Driving Test Resources (For your driver's license)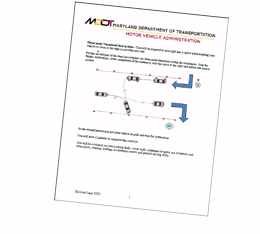 This booklet describes the driving skills test in detail, and demonstrates how to practice for the road test.

• Practice Guide for Driving Skills Test

MVA gives you a Skills Log and Practice Guide when you receive your learner's permit. You are required to fill out the log book with at least 60 hours of home practice and bring it to MVA when you take the driving test to get your provisional driver's license.

• Skills Log and Practice Guide

Alternately you can use the "RoadReady" smartphone app which is approved by MVA to track your practice hours.

• RoadReady app


Need extra practice for the driving skills test? Greg's offers extra driving practice to help you brush up on these maneuvers. Our instructors are very familiar with the MVA test. We will show you the best techniques to help you pass!
For locations, class schedules, and fees, see Driver's Education Information.

If you have questions or need more information, please contact us.